Ecamm Live Version 3.6 is Here
We've been hard at work enhancing and updating Ecamm Live to make it the best live video streaming software around, and we're excited to share our latest update with you. As always, if you have Ecamm Live already, you can just use the Check For Updates menu item in the app to update to version 3.6.
Introducing Interview Mode
Ecamm Live now has a built-in feature that lets you bring up to four guests into your broadcasts or recordings without needing any additional apps. You send a link and they click to join. Yes, it's really that easy.

Plus, our new Interview Mode is packed with powerful features that will wow your viewers and guests, including:
Bring in remote guests in beautiful broadcast quality.
So easy to use that anyone can join – from a Mac, from a PC, from a tablet, even from their phone!
Host up to 4 guests and control all the settings, including camera effects, sound, & other adjustments.
Plan your entire interview in advance with guest placeholders so you're ready to shine on interview day.
Guests can see the show, comments from the live stream, viewer count, and more.
Auto-titling (and animations, too!) makes it easy to add a professional look to your interview.
Guests can share their screen at the push of a button.
NEW Camera Overlays Make Layouts a Snap!
In addition to adding images, text, videos, countdown timers, and scrolling tickers, we now also have camera overlays.
Choose your size, shape, and location and add any of your camera sources into your live broadcast or recording in seconds. Layer cameras on top of branded backgrounds or video files. However you want your show to look, we've got you covered. You'll find camera overlays in the Overlays menu.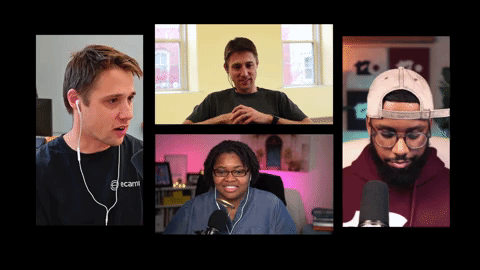 Other new features and changes in v3.6:
Adds a new fly-in text overlay option.
Adds a Speaker menu option in the Audio preferences to select the output device used for movie audio, sound effects, etc..
A transition effect (fade) will now be applied when switching cameras using the camera switcher.
Includes an updated Elgato Stream Deck plugin with new Interview keys.
Fixes an issue that could cause an error message if an audio device is changed while a recording is paused.
Fixes an issue where Restream comments may stop showing up in Ecamm Live.
Fixes an issue where the wrong camera could be picked if NDI sources have the same name.
Various performance fixes.
Works around an issue with the LogiCapture video plugin.
If you already have Ecamm Live, update automatically using the Check for Updates feature in the app. Otherwise,
download version 3.6 here
.
Try Ecamm Live completely risk free today for 14 days. No credit card required.