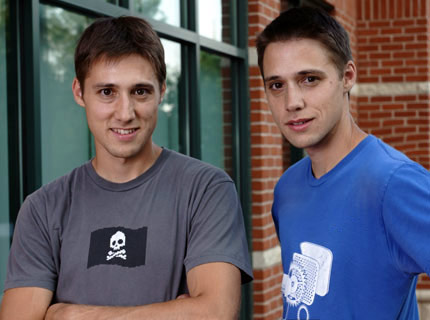 Ken and Glen Aspeslagh
Our Story
We're twin brothers from Massachusetts. We hatched Ecamm in the late nineties with a simple goal of building apps to solve problems. Our strategy: If an app is useful, well designed and properly maintained, it will sell itself, without the need for clever advertising and glitzy marketing.
Since then, Ecamm has grown into a market leader in Mac software products. Thousands of Mac users worldwide rely on our products every day. We hope you like using them as much as we like making them!
Customer Pledge
We may have come a long way since our first Mac app, but that hasn't changed our goal to create and deliver high quality products while providing the best in customer support. Whether you need help with sales, order fulfillment or technical support with one of our products, we treat you like you've just walked into our office. Our goal is direct person-to-person communication to answer questions and resolve issues as quickly as possible. And, if you're unhappy with a purchase, we have a 14-day no questions asked money-back guarantee.
Contact Us
Hey, enough about us. What about you? If you have a question,
or just want to say hi, send us a message by clicking on the chat button in the bottom right, or via our contact form.