The leading live streaming & video production studio built for Mac.
Try Ecamm Live completely risk free today for 14 days. No credit card required.
DOWNLOAD ECAMM LIVE
navigatedown
Look better on video. Easily. It's Ecamm.

Live stream to all of your favorite destinations:

Your All-in-One Video Tool

Whether you're streaming, recording, podcasting, or presenting, everything's here in Ecamm, including support for multiple cameras and screensharing. A live camera switcher lets you direct the show in real time.


Make A Scene

Saved scenes means you can compose scenes in advance, complete with on-screen titles and split screens. Advanced support for Elgato's Stream Deck means fast access to scene switching, sound effects, and more.

Add Movie Magic

Ecamm 's advanced Camera Effects lets you add green screen backdrops, even videos.
Get the perfect shot with digital pan and zoom, image adjustments and even color LUTs.

The Best For Guests

Add up to ten video guests for an instant split-screen, or create a custom layout.
Remote guests join from any web browser for unparalleled audio and video quality.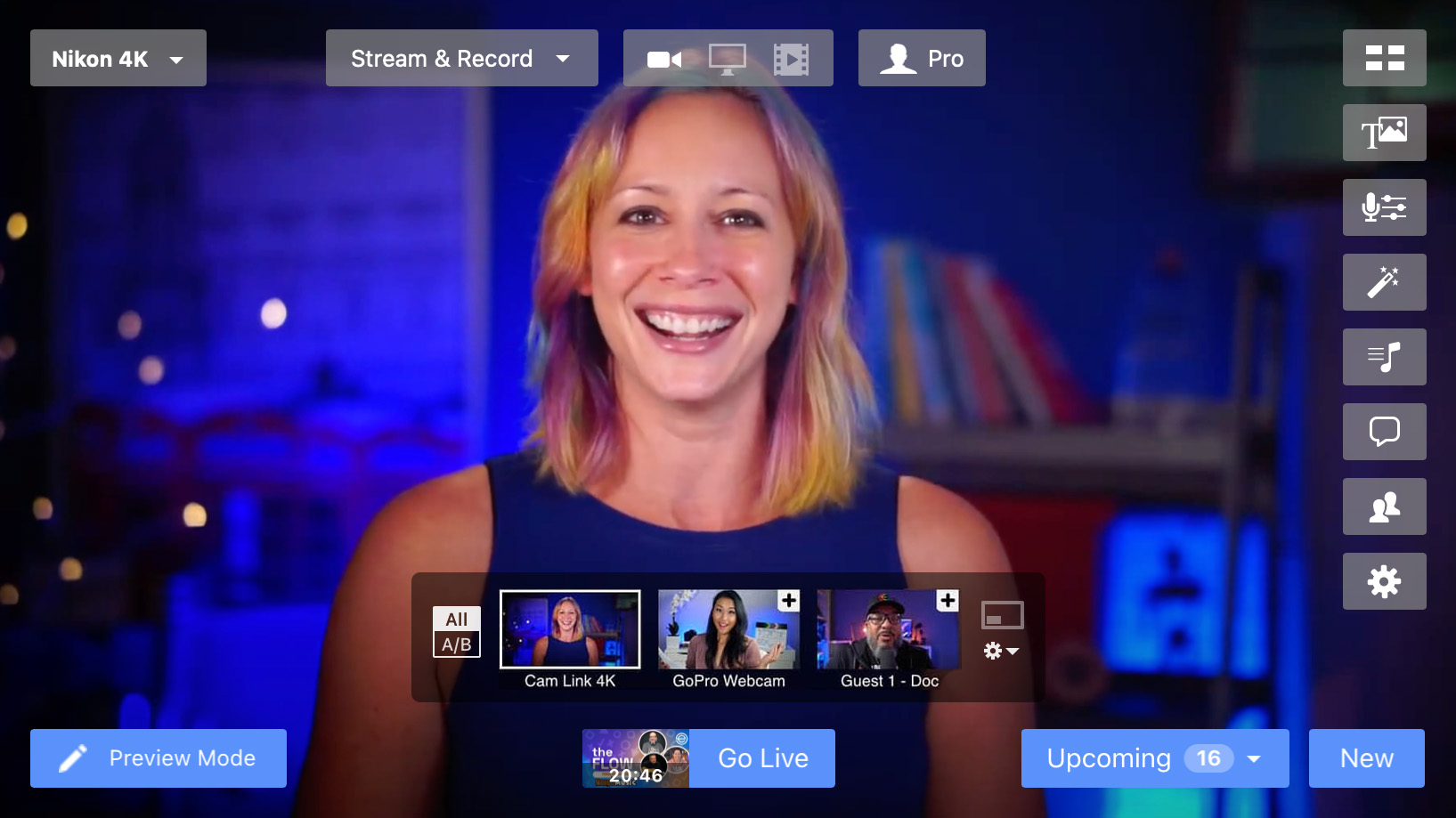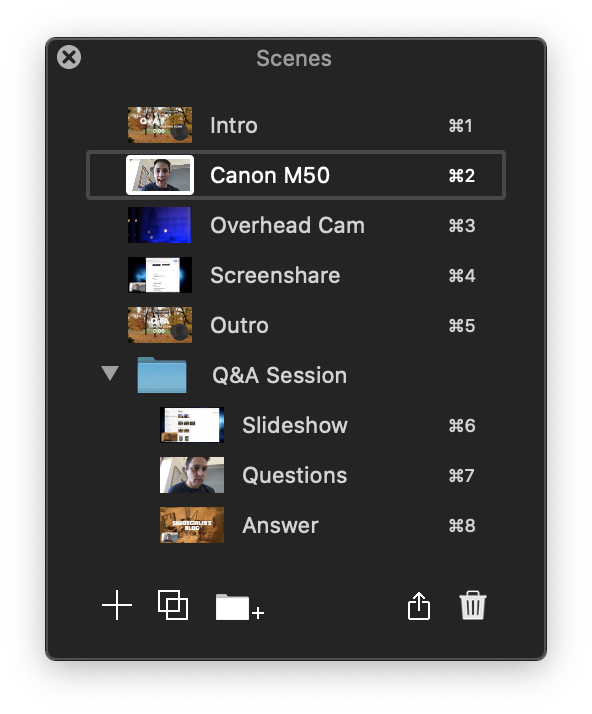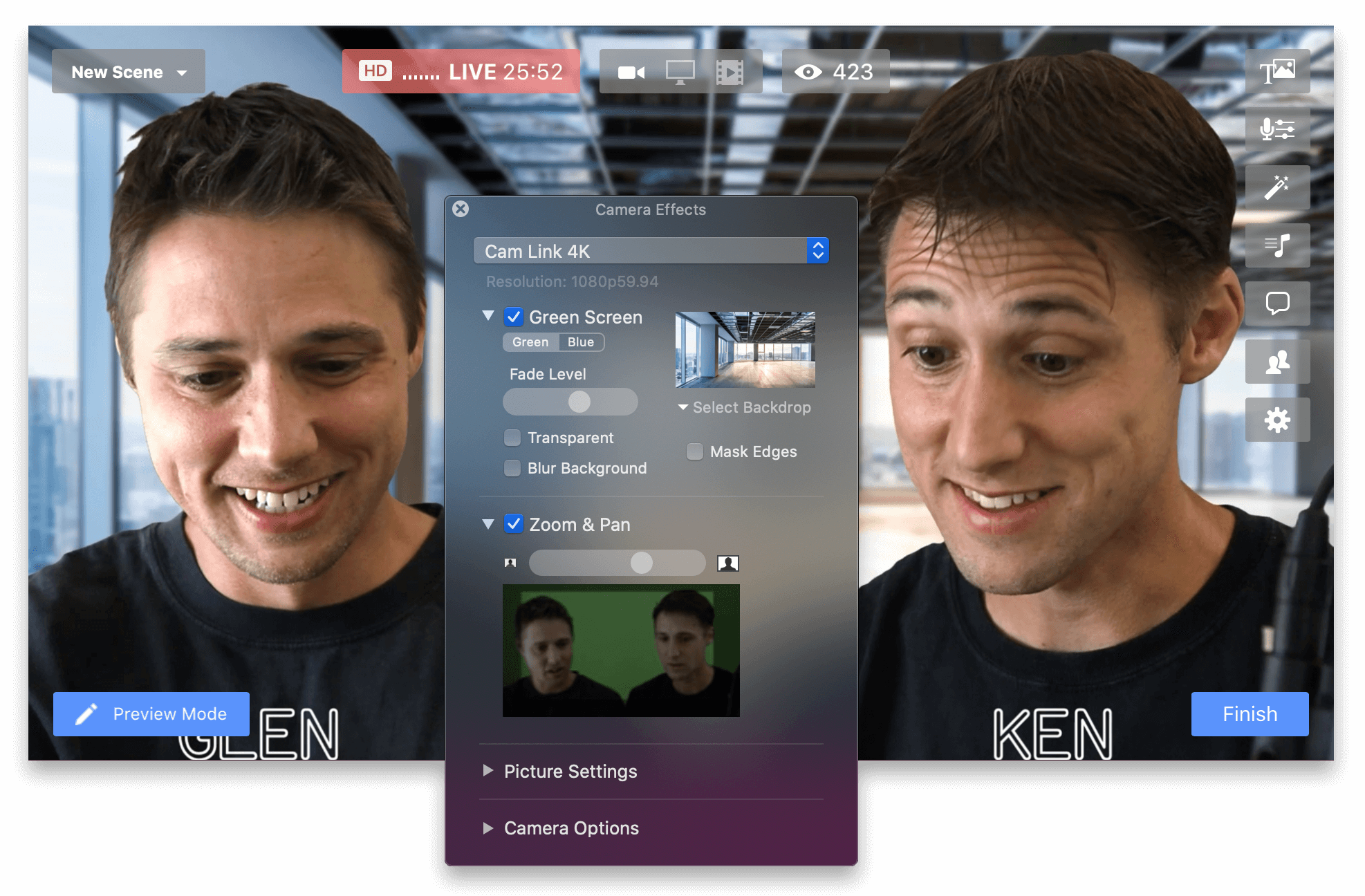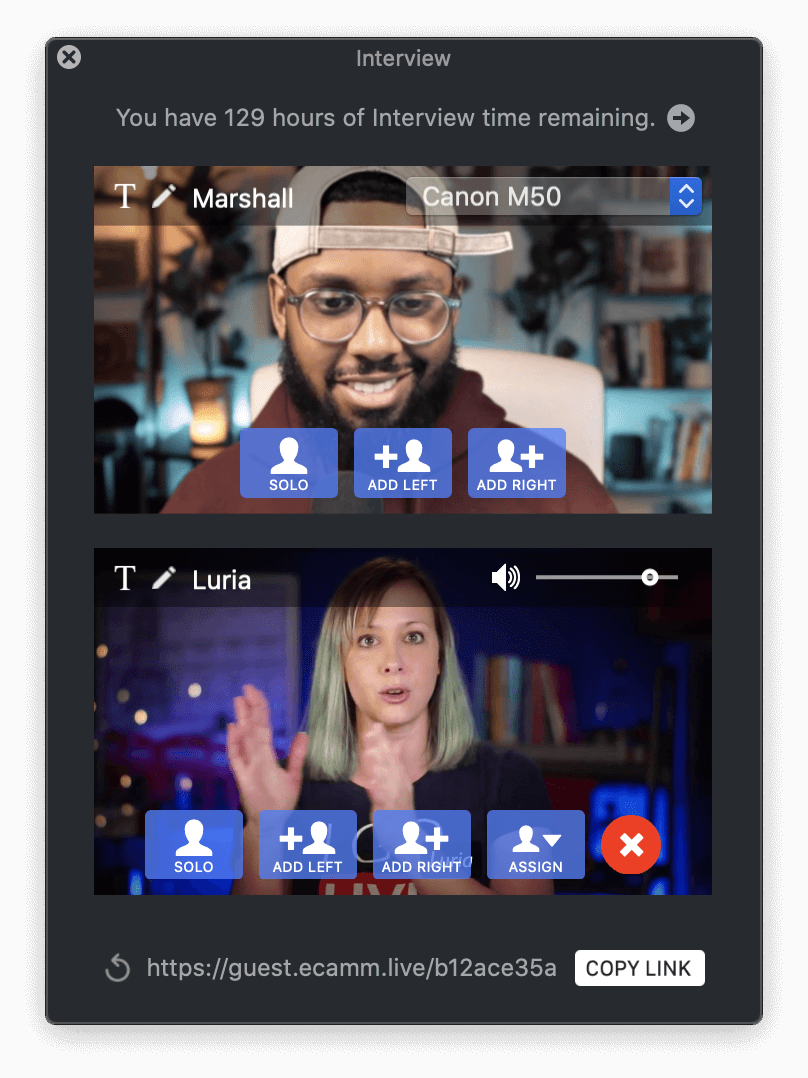 Screen and Audio Capture
Broadcast on-screen windows and stream system audio.

HDMI Capture
Blazing support for encoders like Elgato Cam Link up to 4K resolution.

Video Playback
Roll in pre-recorded videos without any need to reformat or upload to the cloud.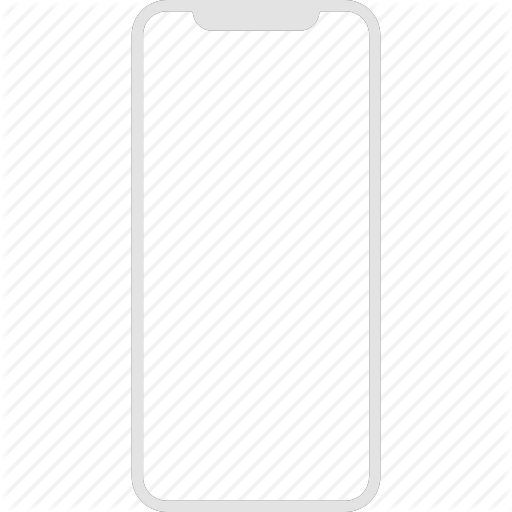 iOS Sharing via USB
Plug in an iPhone or iPad to share the screen or use it as a camera.

Stereo Audio Mix
Let Ecamm handle your audio mix and echo cancellation automatically.

NewTek NDI
®
NDI sources show up in the camera switcher automatically.

Blackmagic DeckLink
Full-native DeckLink for crystal clear 4K SDI.

DSLR via USB
Connect DSLR/mirrorless cameras from Canon, Nikon, and others via USB cable.

In-App Comments
Add styled viewers comments right into your broadcast.

Live Scheduling
Schedule your Facebook, YouTube and LinkedIn Live broadcasts.

Web Widgets
Add animated widgets from StreamLabs, Stream Elements and more.
Animations
Add in custom Apple ProRes and WebM animations.

Stream Deck Support
Direct the action using Elgato's Stream Deck control surface.

Green Screen
Perfect background replacement, even video backdrops.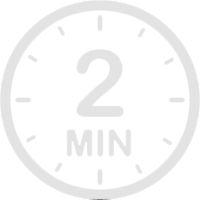 Advanced Overlays
Countdowns, scrolling tickers, camera overlays, it's all here.
Remote Guests
Invite guests using Ecamm Live's video Interview mode.
PRO FEATURE

Social Platform Integation
Instantly link with Facebook, YouTube, Twitter, and more.

Record Isolated Audio & Video
Each track is saved separately for easy post-production.
PRO FEATURE

Multistreaming
Advanced, resilient multistreaming with comments and scheduling.

Local Recording
Every broadcast is automatically saved to your Mac.

NDI Output
Share Ecamm Live audio and video with any local NDI receivers.  
PRO FEATURE

Realtime Monitoring
View your broadcast in real-time on any connected display or AirPlay device.
PRO FEATURE

Custom RTMP
Broadcast to most any RTMP-compatible streaming server.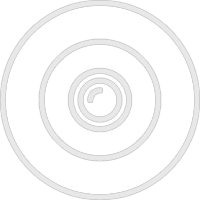 Virtual Camera & Mic
Send Ecamm Live's output to apps like Zoom and Chrome.
PRO FEATURE
From beginners to experts, thousands trust
Ecamm Live to power their video productions.
Join the Community
Our Community is the perfect space for asking questions, sharing tips and tricks, swapping stories, and getting advice. We also post updates, host giveaways, and just have fun together. After all, that's what communities are for. And hey - you're welcome anytime.
JOIN US!
Try Ecamm Live completely risk free today for 14 days. No credit card required.
DOWNLOAD ECAMM LIVE